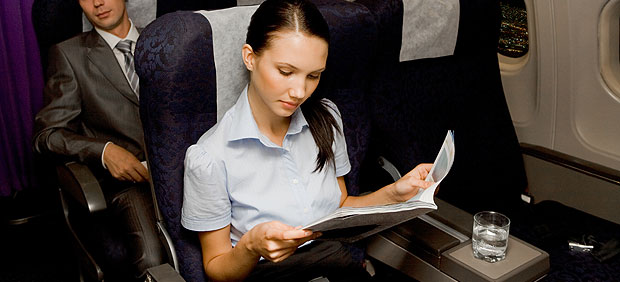 FOLLOW Fare
boom
5 Little-known Ways to Make Your Long-Distance Flight More Comfortable
By Mirela Necsutu, Mon, Mar 13, 2017
Every traveler knows that airplane seats aren't getting any bigger. In fact, long-haul Economy class seats can be as small as 16-inches wide. For many people, that's a pretty tight squeeze.

What can you do to make your flight more comfortable when traveling long distances? Check out these four little-known tips for making those extended flights more enjoyable.

Bring Airline Comfort Footwear
Don't be that person who goes barefoot on an international flight. It's nasty. It makes sense that you'd want to kick off your kicks, but unless you have clean socks or lightweight slip-ons in your carry-on, it's a bad idea. If you bring a pair of airline comfort footwear, you can mask any unseemly foot odor, get those feet out of your hot, clunky shoes and keep your toes warm when the in-cabin A/C kicks on.

There are other alternatives that are more fashionable than the good old athletic sock. For ladies, consider a pair of ballet flats, or even better, foldable flats like Dr. Scholl's fast flats or Tieks foldable flats. For men and women, consider wearing Toms. These comfy unisex shoes are slip-on canvas shoes with leather insoles. In addition to being supremely comfortable and warm yet breathable, each Toms purchase guarantees a pair will be gifted to a child in need in Africa.

Pro Tip: Even if you're traveling to or from somewhere warm and want to wear flip flops or sandals in-flight, having socks or slip-ons in your pack means you can toss them on when you go through security (unless you go through TSA's Pre-Check program to become a trusted traveler).

Guard Your Ears
Did you know that if you fly Virgin or British Airways (among others), you can start watching a movie even before takeoff? That means your first item needed in the plane may very well be your earbuds. The best noise-cancelling headphones, earbuds and in-ear buds include:
Headphones:
PSB M4U2
Harman Kardon NC
Bose Quiet Comfort 35
Bose Quiet Comfort 3s
Soul by Ludacris SL300
AKG K495 NC Acoustics

Earbuds
Sony MDRNC 22
Philips SHN7500-27
Shure SE115-K
JVC Inner Ear
Shure SCL2

Protecting your ears isn't just about drowning out crying babies. It's also about feeling like you have your own space even though you have almost no room at all to yourself. Headphones or earbuds also tell that talkative businessman next to you that you're just not up for a chat.
Hide from the Light
You'll likely want to sleep on some part of your long-haul flight. Even if you have cool in-seat TV screens with games, movies and TV shows that could keep you entertained around the clock, you'll still want to feel protected from everyone around you in order to have a more enjoyable experience in the land of Nod.

While the standard facemask is alright, consider an upgrade. To block out as much light as possible, go for Magellan's Good Night eye mask. For the most comfortable eye mask around, get one made of bamboo fabric like this product from Essentials or this one from PB Travel (they also make bamboo blankets).

Another way to help block out the light is by wearing a hoodie. Check out this awesome hoodie/neck pillow combo from HoodiePillow. It's a great way to feel protected from the light and supported too.

Freshen Up
Bring a few small items along so you can freshen up every few hours. Start by brushing your teeth after in-flight meals and snacks with a travel toothbrush and toothpaste. At least once every four hours, rub down your face with a pre-moistened face wash pad to keep yourself feeling bright. While there are dozens of brands, many travelers recommend Garnier and Dove brand wipes.

Keep your lips soft with chapstick. Your lips are one of the first parts of your body to dry out in the air conditioning so keeping them coated will help you feel less parched. Be sure to keep hand sanitizer with you as well. Every time you take something from a flight attendant or if you touch seats while going to the bathroom, be sure to clean up your hands. There's nothing sadder than arriving at your destination with a head cold coming on.

Finally, make sure any of these freshening items that are liquids or gels are in a small plastic bag in your carry-on. Don't forget the TSA 3-1-1 rule - each item should be no more than 3 oz, you get 1 plastic bag, and the bag should hold no more than 1 quart.

Get Moving
One of the worst feelings on a long flight is stiff muscles. Try progressive muscle relaxation for instant relief.

Moving from your feet to your head, squeeze each group of muscles tightly for ten seconds before releasing the tension. Repeat each muscle group three times. Begin by squeezing your toes, then your ankles, calf muscles, thighs, tummy, chest, shoulders, upper arm, lower arm, fingers, neck and jaw. Doing these exercises will help release your muscle tightness without you even leaving your seat.

Try these tips next time you take a long flight to make yourself more comfortable. Take care of yourself so that you can arrive ready for action wherever your travels take you.
Do you like being the first to know?
If you enjoy always getting the best tips, deals and insider news before everyone else then make sure to follow us on Pinterest, Facebook and Twitter.
MORE TRAVEL NEWS
Back