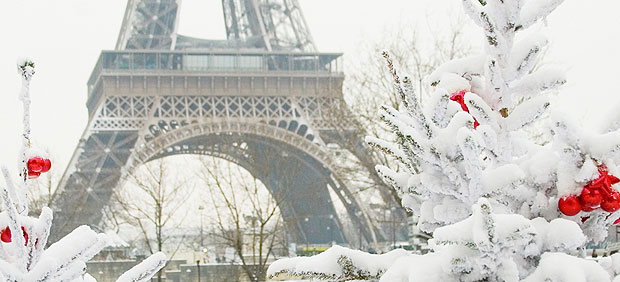 FOLLOW Fare
boom
The 10 Most Beautiful Christmas Travel Destinations
By Mirela Necsutu, Wed, Dec 18, 2019
The winter holidays are the only times that adults can request time off guilt-free. If you're a parent, younger kids are out of school and college kids are home for break. Take charge of this free time and flee the boring Christmas season spent at home.

No more stuffy parties and white elephant exchanges. We suggest a huge street festival or riding a real elephant, instead. This coming holiday, make some amazing lasting memories at one of the places in the world where Christmas is done best. Read on to find your most beautiful Christmas destination.

Amsterdam, The Netherlands
The reason we have a Santa Claus at all is because of the Dutch. Amsterdam's famous canals are frozen over and ice skating is a must. Beautiful old row houses are decorated with lights and bows, making the snow and ice glitter in the dusk. The shopping is wonderful, especially if you're following the Dutch tradition of Sinterklass (also our version of St. Nick) of leaving gifts on Dec.5 for St. Nicholas' Day on Dec. 6.

Nearby tiny Christmas village: Brugges, Belgium

Arusha, Tanzania
How about a Christmas safari? Spend your holiday in the bush snapping photos of wildlife up close. Because it is entering the dry season and is peak game-viewing time around Christmas, Tanzania is a great place to tour. You'll want to be right in the heart of the Selous, Ruaha or Katave game reserves. You should also have a visit to nearby Mt. Kilamanjaro while you're between Ngorongoro and the Serengeti.

Another top African Christmas locale: Cape Town, South Africa

London, England
London launches into a Christmas fervor in the month of December. You can see all of the major sites decked out in holiday garlands and glittering lights. The Royal Ballet and West End theater district buzz with holiday-themed shows and the pubs are stocked with delicious meat and potato specialties. Don't forget to pop open a traditional Christmas cracker to get your paper crown and tiny prizes.

Awesome nearby Christmas-crazed village: Castleton, England

Napapiiri, Finland
For the closest thing to the real Santa Claus Village that you'll ever see, Finland has a fantastic Santa Park. You can pet real reindeer, tour Santa's workshop and meet the big man himself. It's kitschy and fun, but also has some fantastic once-in-a-lifetime experiences like watching the Northern Lights.

Nearby holiday haven: Rovaniemi, Finland

Paris, France
Known year-round as the City of Light, Paris steps it up a notch during the holiday season. A stroll down the Champs Elysees is peppered with white lights and all of the designer shops have elaborate window displays. You can ice skate under the Eiffel Tower, share French onion soup at a café or peek in on stunning cathedrals and churches. Paris is romantic, fun and full of free adventures around the holiday season.

Christmas-obsessed neighbor: Provence, France

Quebec City, Canada
For the snowiest option, try Quebec City. It has gorgeous architecture and feels like the North Pole, complete with toy workshops and handmade candies. Enjoy the French-inspired food and European flair. Quebec City is one of the most cosmopolitan places in North America.

A nearby city with a Christmas flair: Montreal, Canada

Rome, Italy
If you're Catholic or love the tradition of hymns and decked-out churches, Rome is the place to be. Devour a fish-focused meal on Christmas Eve and then head to the enchanting midnight mass at the Parthenon. On Christmas Day, wander the outdoor markets and take in a true multi-course feast with everything from lamb to lasagna to piles of sweets, including a Roman favorite called torrone, a honey and pistachio nougat. The Roman holidays may be a bit less flashy than other celebrations, but you'll find the lack of crowds and an abundance of beautiful scenery too wonderful for words.

Another Italian Christmas specialist: Verona, Italy

San Juan, Puerto Rico
For a warm-weather alternative, check out beautiful San Juan. In old San Juan, you'll find roaming Christmas bands playing classic carols to salsa beats. Don't forget to try the local specialties, empanadas, and mofongo. Be sure to stop in the old convent-turned-hotel, El Convento. You can also explore the nearby El Yunque Rainforest and glowing bioluminescent waters.

Wacky Christmas-loving friend: Key West, FL

Tokyo, Japan
Tokyo does Christmas lights right with beautiful LED bulbs covering buildings, trees and just about everything else. In addition to the astounding light shows, there are enormous year-end bazaars around the city. While Dec.23 is the real holiday in Japan (it's the Emperor's Birthday), holiday cheer and a feast of fresh sushi abound. If you stick around for New Year's Eve, don't miss the celebration and rituals in the Meiji Temple.

Nearby Zen locale to rest up from your travels: Kyoto, Japan

Vienna, Austria
Vienna is peppered with incredible Christkindlmarkts where you can find beautiful hand-carved gifts, great warm food, and boozy cider. You should walk around the city as much as you can, taking in the bright decorations on Gothic buildings. If you have a chance, take in a chamber music performance or hear the Vienna Boys' Choir.

Also full of Christkindlemarkts: Cologne, Germany

Bonus: Closer to Home
If you don't want to stamp your passport but do want to get away for the holidays, we suggest a few of America's best destinations:

● Boston, MA (airport code: BOS)
● Charleston, SC (airport code: CHS)
● Chicago, IL (airport code: CHI)
● New York City, NY (airport code: JFK)
● Washington, D.C. (airport code: IAD)
● Woodstock, VT (airport code: LEB)
Do you like being the first to know?
If you enjoy always getting the best tips, deals, and insider news before everyone else then make sure to follow us on Facebook and Twitter.
MORE TRAVEL NEWS
Back