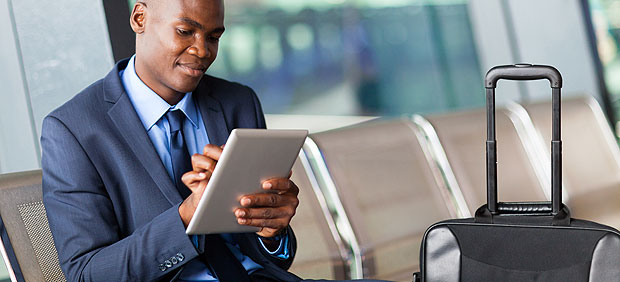 FOLLOW Fare
boom
4 tips for getting the most out of your airport layover
By Mirela Necsutu, Mon, Jan 18, 2016
Spending extra time in an airport is usually something that makes passengers grumble. When faced with a long layover, the idea of sitting in a stiff chair at the gate for hours can seem unbearable. But there are plenty of ways to make the most of your time while waiting.

Catch up on work, treat yourself to a great meal or embrace your artistic side. By finding ways to enjoy your layover, you'll also arrive at your final destination calmer and more relaxed.

If you need a little inspiration, take a look at these 4 tips.

Use apps to be more productive
Some people thrive in busy environments. If you are a traveler on business, use your time in the airport to tie up all those loose ends. Answer some e-mails, finish an old project or even call that client you've been putting off for weeks.

To help, try some smartphone apps to aid in the process. Download airline apps, such as those offered by Lufthansa and Virgin Atlantic, that give up-to-the-minute details on flight times so you can monitor how much wiggle room you have for airport downtime.

If using your laptop, RescueTime is a perfect tracker. This software shows you exactly how you are spending your time online – social media, answering e-mails, etc. There's a helpful setting that times you at 30-minute intervals and temporarily 'blocks' all your problem sites such as Twitter, Facebook or anything else that distracts you.

Enhance your artistic prowess
Local artists are often featured inside airports, so skip the long lines at the Louvre or New York's MFA and see some beautiful exhibits while you wait for your flight.

At Gatwick airport's North and South terminals, there are installations created by famous Sir Peter Blake, who also created the design for the Beatle's Sgt. Pepper album. Amsterdam's Schiphol Airport has a giant-sized tea set on display and in Singapore, the floors have recently been covered in painted optical illusions by Kurt Wenner.

Avoid questionable airline food and stock up
Airline food has improved over the years, but if you have extra time, why not have a lazy and long dinner at the airport? Enjoy some authentic Texas barbeque in Austin at Salt Lick, or dine at a sumptuous raw bar in Amsterdam at Bubbles Seafood. Airport restaurants aren't always chains and sometimes top city hotspots will have downscaled versions in the terminal for those on layovers to try.

Treat yourself to a great time
Airports are full of high-end specialty shops, spas, pubs and more. With all these attractions, you may want to use your extra time to relax. Spend a bit of your travel budget to grab a fruity, local cocktail or pick up a new scarf for someone special back home.

In the Zurich airport, for instance, you can take a fitness class, attend a wine tasting or simply sit and really enjoy that overpriced latte.

Not looking to splurge on expensive goods? When at the Tokyo airport, head over to their observation decks for great views of planes landing and taking off, either at the 5th floor in Terminal 1 or 4th floor in Terminal 2. They even had the forethought to include small holes in the fencing so visitors can stick their camera through for unobstructed photos.
Do you like being the first to know?
If you enjoy always getting the best tips, deals and insider news before everyone else then make sure to follow us on Pinterest, Facebook and Twitter.
MORE TRAVEL NEWS
Back