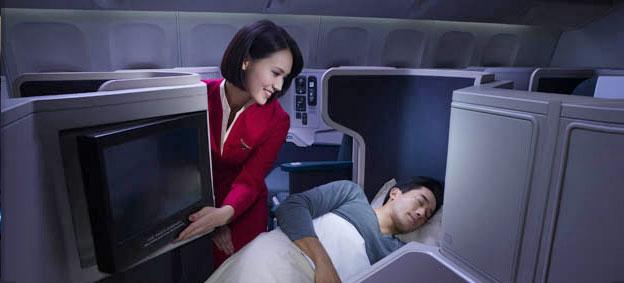 FOLLOW Fare
boom
The Best Business Class Airlines for International Flights
By Mirela Necsutu, Fri, Sep 6, 2013
There's nothing more uncomfortable than settling in for a long trans-continental flight in between two beefy wrestlers or in front of the kid that kicks the back of your seat while playing a loud video game. While not all economy class seats are uncomfortable, when going for a long journey, why not consider business class?

A giant leap up from economy, business class can be the perfect choice for those who want a better flying experience. Welcome to the land of legroom and proper silverware.

If you're planning a long-haul trip, check out our review of the best business class airlines from North America to two top destinations – Europe and Asia.

North America to Europe
Richard Branson's Virgin Atlantic takes the cake for business class travel from North America to Europe. Virgin Atlantic is all about experience and that begins at check-in. Called Upper Class, this Virgin Atlantic class is suave from start to finish. From a private line at check-in to some of the most decked-out lounges in the industry, these perks will make you feel like an A-lister.
Check-In
You can even get a chauffer-driven car transfer to and from the airport if you're really feeling fancy. Even without the Virgin-sponsored transfer you can take advantage of drive-through check-in and go straight to the Upper Class Wing.

For example, at Heathrow, you can have your private car drop you off, check in, have your baggage taken care of and go through a private security line to get to the Virgin Atlantic clubhouse in 10 to 15 minutes. You don't even have to share security lines with other shoeless, ornery travelers. It's genius.
Lounges
While waiting for your flight in San Francisco, Boston, New York - JFK, New York - Newark, Washington Dulles or while waiting to connect at London - Heathrow or London - Gatwick, Upper Class fliers enjoy beautiful lounges decked out with high-end bars, fantastic food and comfortable work and lounge areas.

Heathrow and Gatwick even have spas so if you have a particularly long layover, you could get a haircut or massage on your way to your final destination. There are even Revivals lounges where you can freshen up and grab a bite or have your clothes pressed before pressing on.
Seats
As expected, with such a luxurious ground experience, the actual Virgin Atlantic flight is equally decadent.

After being handed a pre-flight glass of champagne, you'll be shown to your seat. The seats themselves are some of the widest in the industry at 22 inches, but it's the pod-like seat area that makes the experience extra special. Each pod has a workspace, power source and 10-inch television loaded with in-flight entertainment.
Eat and Sleep
Upper Class has two dining options - traditional dinner or a new Graze menu, but all will be accompanied by real linen, ceramic and steel eating utensils rather than plastic, more plastic and paper that you find on a typical flight.

Your seat lays totally flat into a bed that is 33 inches wide and 78 inches long. That's over six and a half feet long for you tall travelers. Each bed is equipped with sheets, pillows and a blanket. The pod-like atmosphere allows for a quiet, restful overnight.

After waking refreshed on a new continent, any traveler would be ready to jump up and embrace the day ahead. For your next European vacation, consider flying Virgin Atlantic Upper Class.

While Virgin Atlantic is the clear winner, honorable mention goes to British Airways.
North America to Asia
Long-haul flights from North America to Asia on business class are supremely comfortable on Singapore Airlines. They rate highly on overall business class experience, business class seats, in-flight entertainment and staff service.
Lounges
Before leaving North America, Business Class passengers can enjoy the SilverKris Lounge in San Francisco, which includes wireless Internet, restrooms and showers.

Travelers on Singapore Airlines can also take advantage of partner lounges. These are not the SilverKris Lounges specific to Singapore Airlines but offer great amenities like TV, Internet, restrooms, comfortable rest areas and often light refreshments. These partner lounges are available for those starting their Asian vacations from New York – JFK, New York – Newark, Houston and Los Angeles.
Seats
The real beauty of the Singapore Airlines' flying experience starts when you arrive at your seat. Business class seats for long-haul flights are the largest in the industry at 30 inches wide.

The under-seat flips out to create a recliner for work, entertainment or dining and then stretches out into a fully flat bed for sleep. There's even a small in-seat vanity mirror so you can freshen up when you wake. The seats also come with a huge 15-inch TV with games, movies, TV shows and news.
Eat and Sleep
Givenchy table settings and adjustable table height are just accents when compared to the food. You can even Book the Cook and choose your own meal from a menu up to 24 hours before takeoff.

The food on Singapore Airlines is celebrated for being fresh, perfectly cooked and delicious. It won't look or taste anything like the microwave dinner you're used to in Coach.

Finally, with a full belly, you can fully recline and catch-up on some rest. Each bed comes with a larger pillow and comfortable light duvet. According to customers, they are the best in the business for experience and the best night's sleep over the Pacific.

Although Singapore Airlines is the runaway winner in its categories as well, honorable mention goes to Cathay Pacific.

The next time you think about going on a long-haul journey abroad, either from North America to Europe or to Asia, give Business Class a second look. While it may or may not get all the perks of first-class, the extra leg room, better food and more comfortable seats can make all the difference when you arrive at your destination.

Though the opportunity to sleep on a flat bed rather than sleep-sitting next to a drooling teenager who doesn't know armrest etiquette seems priceless, it does have a price, and in many cases, it's far less expensive than you think to bump up to business class.
Did we miss one?
Tell us what you think the best business class airline is by leaving a comment below.
MORE TRAVEL NEWS
Back