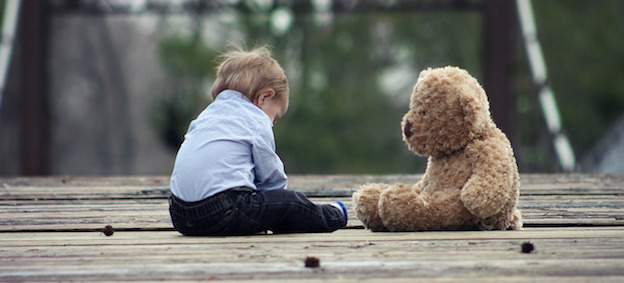 FOLLOW Fare
boom
Flying with a baby or toddler: What to know before you book
By Fareboom Staff, Thu, Nov 26, 2015
Flying with a baby or toddler can be challenging, even downright exhausting. But the good news is, if you've prepared things in advance, it should generally go a lot more smoothly. Because just like everything else in parenting, if you can eliminate as much stress as possible from other sources (in this case, airline policies, what to pack, and so on…), you'll be better able to focus your attention and energy on your little one.
Before you even buy your tickets, there are some things to know, like:
- When can you start flying with a baby? There's no hard and fast rule. I was told babies can start flying when they're two or three months old, but I know other people who were told other ages. And of course it also depends on your child's health and additional factors. Talk to your pediatrician and then check different airlines to see what their requirements are, as well.
If your baby is clear to fly but you're putting it off, don't. As one of my cousins wisely told me, it's a lot easier to be on a plane with, say, a six-month-old, who's used to staying in one place, rather than an older one who's started crawling or walking and will want to do that, Fasten Seatbelts sign be darned!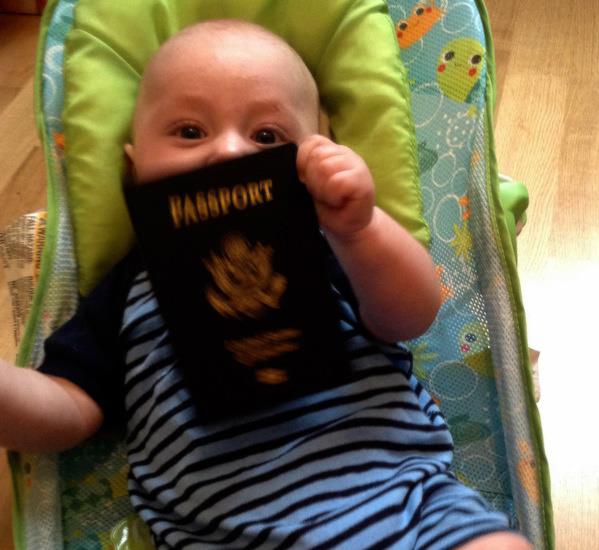 - A baby needs documentation. If you're taking a domestic flight in the US, even if your baby doesn't have their own seat, you'll have to show a birth certificate (mostly to prove the kid is under two – for more on that, see below). Most airlines will accept a photocopy, but check to make sure.
On international flights, on the other hand, your baby will have to have an actual passport. It seems silly – my son already looks very different from the passport photo he took when he was five months old. But you will be expected to hand this over with your own passport during check in, the security check, and boarding. If you have a different last name than your child or there's another possible issue, you may also want to bring a copy of their birth certificate, just in case.
Other documents you might want to bring with you would be any important health-related information, especially if you're traveling abroad. For example, I always bring photocopied pages of my son's vaccination records. It's also a good idea to bring any other health information you might need, including names of prescriptions your kid is taking, any allergies, blood type, etc.
- Ages two and under fly free or cheap…most of the time. As a general rule, most domestic US flights will allow you to keep a child of up to two years old on your lap during the flight (more on this in a minute), free of charge. Other airlines, as well as international flights, will often charge you 10% of an adult ticket price for a lap child. These rates do vary, so check airline policies before you budget this in.
But most of the time, you'll save big if you go with the "lap child" option. So, if it's so cheap, why wouldn't everyone do it? Some experts and frequent travelers argue that it's not as safe as buying a separate seat for your kid (at full price) and putting them in a car seat that's approved and adapted for air travel. It's a personal choice and I'm not judging either way.
Speaking of safety airlines will normally plan to have lap children seated in rows that have extra oxygen masks. If you're paranoid about this, as I can be, don't feel bad about checking on this when you book your flight, as well as at check-in.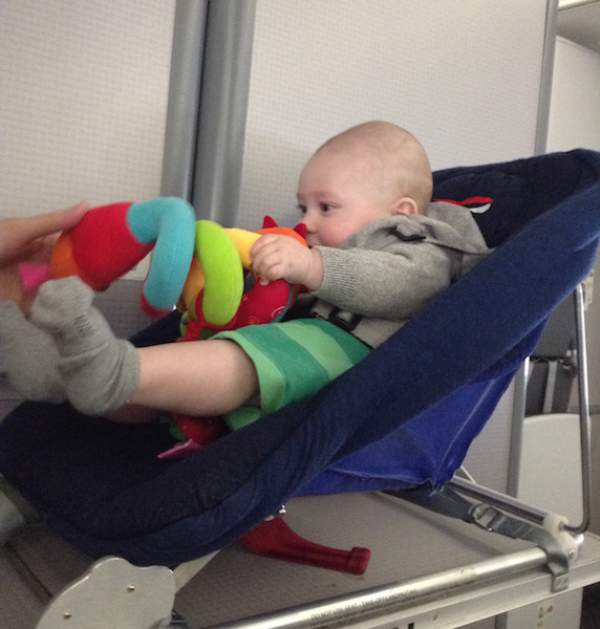 "Lap child" doesn't always mean your kid sits on your lap. On some flights, you'll get a bassinet or even an empty seat. If you're really lucky, your baby will get to travel in this awesome reclining seat/bassinet combination that we got on a British Airways flight from London to New York.
- A lap child may not have to stay on your lap. My family has done the lap child thing on multiple occasions and except for one flight, via British Airways Flying Blue, our son never had to actually just sit on our laps.
Usually there are bassinets for very young babies (there's a weight requirement). Or, when you check in for your flight, if it's not too full, I've found that the airline will try to put parents and their kids in their own row of seats, regardless of whether of not the parents have paid for a seat for their child. This is awesome, and you'll see that it does make things easier and more comfortable. Since this is a possibility on many airlines, some parents bring their kid's car seat just in case, but if the flight's crowded and you don't get that extra seat, you'll have to check it.
- Figure out luggage. Before you book your ticket, see what the airline's policy is for your baby's baggage allowance. The international carriers I've flown have all allowed us to bring one checked bag and a carry-on, plus a "personal item", for my son. Also, we could have brought his carriage for free if we'd needed to. But not all airlines are the same.
"You can bring all this with you, and more...but you may have to try some of it at the security checkpoint."
- Food and drinks. Great news: Security regulations for carry-on items are lifted for babies and young children (at least when it comes to liquid, barring water). You can bring food, formula, baby food, and medications in their usual-sized containers. But the airline personnel will have to search and examine it in some cases, and may ask you to taste some of it, so be prepared.
Bottled water for formula isn't generally allowed in large quantities, but I've gotten by at some checkpoints by bringing it in a baby bottle or two. Still, there's no guarantee, so make sure to build in time to buy bottled water that's safe for babies in the terminal before you take off. (You can ask for this kind of bottled water once you're on your flight, but they may not have it, or enough of it, as I learned the hard way on one tense trip.)
- Bring your own stuff! No matter what an airline says, always, always, always bring your own supplies and consider whatever they give you as a bonus.
Always bring lots of extra diapers – you never know if your flight will be delayed, if your little one will have a tummy ache, and so on. Some airlines might say they provide diapers, but bring yours anyway.
The same goes for food: Some airlines offer an "infant meal", even to lap children. It's a nice and appreciated gesture, but the "meal" may not exactly be that. On international flights we recently took with Delta, for example, the infant meals we got were two baby food jars, a fruit and a veggie, and, in one case, a very small jar of a meat-based meal. They were more adapted to a child who's just started eating food, rather than our 14-month-year-old. So look at the infant meal as a bonus, but always bring your own food, snacks, and, especially, drinks, for your baby, too.
- You can bring a carriage for free, but beware. Good news: On most airlines, you can bring your carriage with you free of charge. The carriage will be checked at the gate (confirm this with your airline).
There is a downside, though: Since they're treated like regular luggage, carriages they may be thrown around, jostled during the flight, or meet some other misfortune, and then you'll get to your destination with a busted one. Still, lots of parents do travel with carriages and everything is fine. In case you have to pick up your carriage at baggage claim after your flight, be sure to have a way to carry your baby while schlepping your luggage – a sling or carrier is a good idea.
Alysa Salzberg is a writer and trip planner. She lives in Paris with an eccentric Frenchman, a baguette-stealing baby, and a dog-like cat. Besides them, she loves travel, books, and cookies. You can read about her adventures here, or feel free to stop by and check out her website.
Do you like being the first to know?
If you enjoy always getting the best tips, deals and insider news before everyone else then make sure to follow us on Facebook and Twitter.
comments powered by

Disqus
MORE FAREBOOM EXPLORER
Back