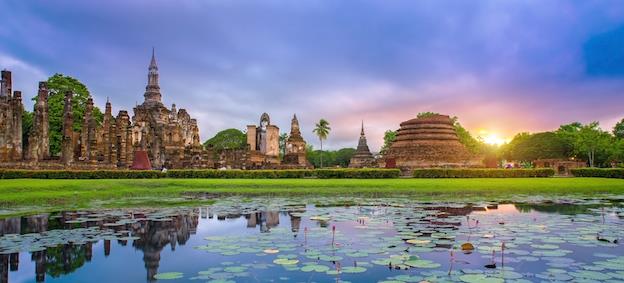 FOLLOW Fare
boom
Cities in Thailand Worth Leaving the Islands For
By Fareboom Staff, Fri, Jan 10, 2020
When many people think of Thailand, they think of the Thai islands. There's no question that these southern beaches are spectacular, but I think travelers who never leave the coast only see one side of this diverse and fascinating country. Here are a few places in Thailand that are well-worth leaving the islands to see.
Sukhothai
Sukhothai is one of the best places in the country to explore Thai culture and history. The city is divided into New Sukhothai and Old Sukhothai, the latter of which is a UNESCO World Heritage Site where you'll find the remains of one of Thailand's most important ancient kingdoms. Although Thai culture existed in some forms before the 13th century, the Sukhothai Kingdom is largely considered to be the birthplace of most of the Thai traditions and customs we know today.
The old part of the city, Sukhothai Historical Park, is reminiscent of Cambodia's famous Angkor Wat, but with far fewer tourists. This collection of remarkably well-preserved ruins is spread across a pretty park, connected by a series of paths and roads that are best explored by bike. The park's silently-observant Buddhas and weather-worn towers are profoundly beautiful and serene.
Although Old Sukhothai is the main attraction, New Sukhothai is actually quite an interesting experience too. Relatively unchanged by tourism, New Sukhothai provides a small taste of life in an average Thai town.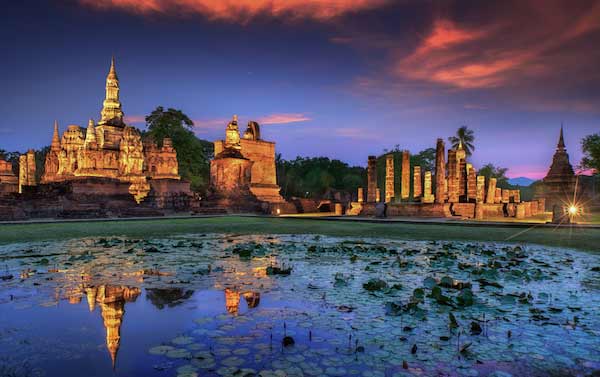 Kanchanaburi
Whether it was the culture, natural beauty, or relaxed lifestyle that brought you to Thailand, Kanchanaburi checks every box. This city is probably most well-known for its Bridge Over the River Kwai, part of the infamous rail route that Allied prisoners and Southeast Asian labourers were forced to construct during WWII, inspiring a book and movie of the same name. The city is also home to a number of other war-related memorials and museums, which are sombre but compelling.
On the lighter side, the city is surrounded by lush mountains, fields and forests, which make it an excellent base for experiencing Thailand's natural world. You can take an easy day-trip to explore a waterfall or cave, or venture on a more intrepid trek into one of the nearby national parks. There are also some extremely unique temples to see on the outskirts of town, including Wat Ban Tham which is entered by passing through the mouth of an enormous dragon statue.
Kanchanaburi is also known for its laid-back atmosphere. With many guesthouses set on rafts over the water, you can easily lose track of the passing days while sitting on a deck chair and enjoying the green riverside scenery. If you're looking for more exciting nightlife, you can hit up one of the numerous bars and restaurants found on Mae Nam Kwae Road, which are popular with tourists and expats.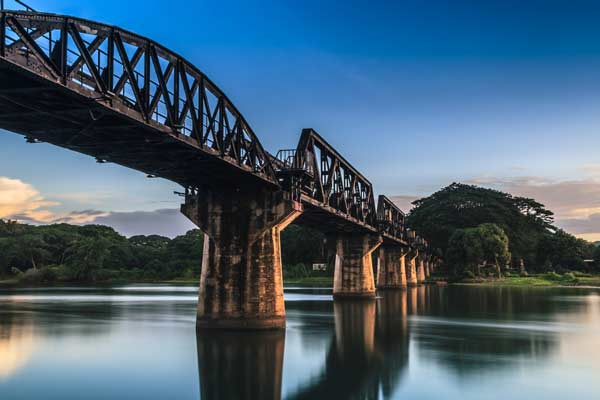 Bangkok
From the moment you step out of the orderly, air-conditioned airport, Bangkok grabs you by the shirt collar with its humidity and chaos. Yet, it's not uncommon for travelers to arrive in Bangkok and get on the next available train or bus south without taking the time to even scratch the surface of this eccentric city.
Tuk tuks spurt black smoke into the already-hazy sky while the sleek Skytrain glides overhead; you can spend your entire trip budget in a high-end restaurant or satisfy your hunger for pocket change at a street stall; you can get pulled into the sweaty, bargain-seeking crowds at JJ Market or shop for designer merchandise at Siam Paragon. This sprawling city is a maze of secret alleyways and distinct neighbourhoods, and it really does reward those who stick around long enough to see more than the Grand Palace.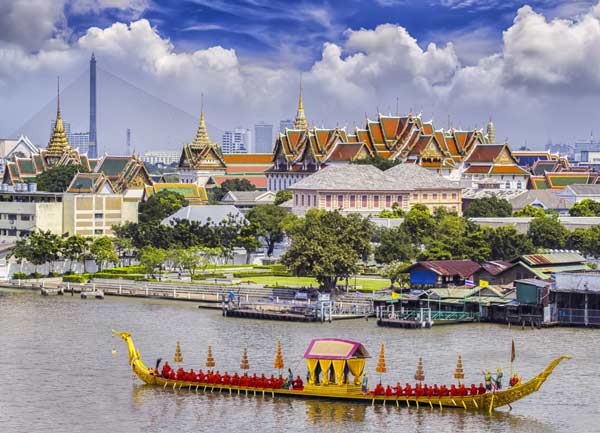 Do you like being the first to know?
If you enjoy always getting the best tips, deals and insider news before everyone else then make sure to follow us on Facebook and Twitter.
MORE FAREBOOM EXPLORER
Back