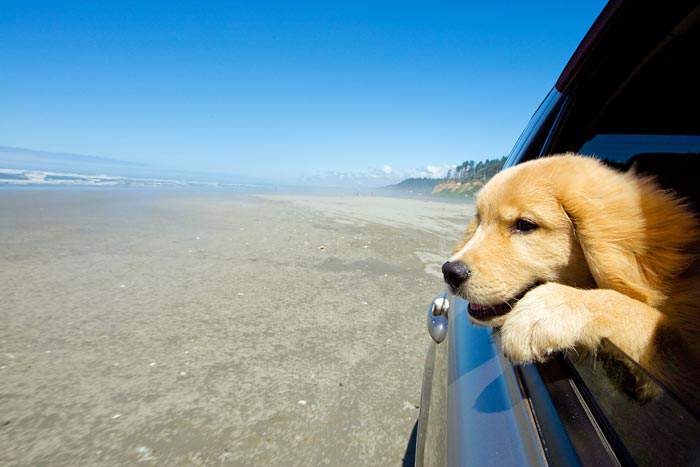 FOLLOW Fare
boom
Flying with your pet
By Alysa Salzberg, Mon, Aug 11, 2014
If you're moving far away, or if you simply can't think of taking a vacation without that special furry, feathery, or scaly someone in your life, you've probably considered paying for your pet to fly with you. Here are some tips to help you take to the skies with your animal companion:

1. Can your pet fly?
Sure, this article is supposed to tell you how to fly with your pet, but that doesn't mean flying with your pet is always going to be possible – or even that it's the right choice. For the animal's safety, you may not be able to fly with a pet who is very young (less than 2 months for cats and dogs), elderly, or has a medical condition; isn't up to date on their vaccines (you can get information on vaccines required by a particular country here); is missing required documentation (This handy site lets you search by country, since this also depends on your destination); isn't a dog or cat (check your airline's policy on this), or is brachycephalic (any breed that has a flat face).

Luckily, if your pet can't take a plane, there are other solutions, from land- or water- based travel options with your animal, to services that transport your pet via van from one destination to another. You can find these other options by doing online searches for terms like "animal transport companies".

2. Keep them in the cabin
If your pet can fly, the next step is to decide where they'll be on the plane. Each year, a number of animals are injured or even die from flying, especially if they travel in the cargo area. In fact, because temperatures aren't well-regulated there, many airlines won't let animals fly in cargo during the hottest and coldest times of the year. Do what you can to have your pet with you in the cabin. If the airline won't let you, the Humane Society has some strategies for making pets in the cargo hold as safe and comfortable as possible.

3. Be direct
Experts on pet travel agree that if you're flying with your pet, it's best to choose a direct flight. One of the most important reasons for this is that dealing with only one flight means a significantly lower chance that your pet flying in cargo will get lost en route. You might think it would be hard to misplace, say, a huge German shepherd in an even huger carrier, but unfortunately you'd be wrong. Just as they can lose your bags, airlines can lose your animal friend, too. You've probably heard news stories about pets lost in airports, like this recent case. Luckily, it has a happy ending, but sadly, these stories often don't. I won't link to any proof of that, because it makes for sad reading.

4. Papers work
Another way to keep your pet from getting lost is to be sure he or she has every possible form of ID. Talk to your vet about implanting a microchip if you haven't done that already. Make your pet wear a collar (if it's the kind that can wear a collar). And if your pal is traveling in cargo, make very sure that you attach multiple luggage tags, labels, and stickers marked with your pet's name and your contact information, as well as labels with very large letters that say "Live Animal", to their carrier. If your pet has special medical needs but has still been cleared to fly, ask your vet about any additional steps you might need to take. The ASPCA has even more advice on how to reduce the risk of your pet getting lost at the airport here.

5. A drug-free flight?
With all the stress of flying, giving your pet a tranquilizer or sedative may seem like common sense. But it's actually a controversial issue. Some people say it's the only way for an animal to fly, while others warn against possible serious side effects, like suffocation. The Humane Society, the ASPCA, and the American Veterinary Medical Association are among the organizations that advise against using tranquilizers and sedatives for animals traveling by plane. But each pet is different, and in some cases, this may be the only option. Talk to your vet, and also do some research on your own to choose what's best. Remember that there are also homeopathic medications or pheromone sprays that might be able to calm your pet, with very little risk of side effects. Of course, you should still ask your vet about them, and it's also a good idea to try these long before you take off to see if and how they affect your companion.

6. In-flight refreshments
If your pet is flying in cargo, the ASPCA suggests putting a small bowl of frozen water inside their carrier. It's easy to transport and will thaw soon after take-off. They also recommend bringing hard food for the crew to give to your animal before the flight. If your pet is traveling in the cabin with you, be sure to keep in mind any restrictions on liquids, or any customs issues that might pose a problem when it comes to their food.

You might be thinking that flying with your pet is a lot more complicated than you'd expected. But as with most things in this world, the key is to be informed. Ask your vet and your airline questions. Do online research. You're a devoted pet owner, so of course you're going to do whatever it takes to make your pet as safe as possible during their flight. Bon voyage to you both.
Do you like being the first to know?
If you enjoy always getting the best tips, deals and insider news before everyone else then make sure to follow us on Facebook and Twitter.
MORE FAREBOOM EXPLORER
Back