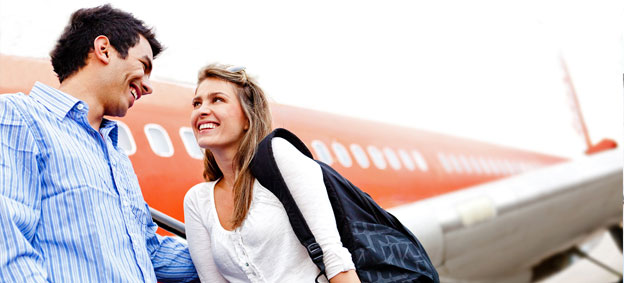 FOLLOW Fare
boom
Why The Cheapest Flights Aren't Always The Best Flights
By Mirela Necsutu, Wed, Sep 4, 2013
The dollar sign is often the first thing we glance at when choosing what flight to take for our next trip. But don't let those super-low fares fool you: they may not be the best choice. Shaving a little off the bottom line could mean long layovers, hidden fees, or a great deal of time and stress spent trying to find the cheapest flights ever.

So here are four things to think about before you snatch up a rock-bottom fare.

Your time could be wasted
It can be exciting to find that hot deal for airfare, but is it really worth a six-hour layover? If on business, that's wasted time that could be spent settling into the destination or connecting with clients. On vacation, losing a day in airports and spending money on food and drinks can't beat the beach, especially when you've got only a short amount of time booked off of work.

It gets even more stressful and costly when you need to change airports, as it often happens within New York or London metropolitan areas. Such changes mean you must collect your bags, pay your own bus or taxi fare and check in once more at the other airport. Take all these factors into consideration before committing to that lowest fare option – it might not really be a steal after all.

Cheap flights can leave you drained
Jetlag, long airport lines and navigating an unfamiliar city can take a lot out of you. So paying a little more for extra comfort might be worth it.

Being frugal has its value, to an extent, but your health and well-being is much more valuable – especially on good airlines with bonus amenities, direct flights and other perks that come with a reasonable airfare quote. Savvy travelers already know that, at times, paying a bit extra on long-haul flights for premium economy seats may be a wise choice.

Consider premium economy as good value when it costs up to 50% more than the lowest available coach-class fare. Foreign carriers such as British Airways, Virgin, Air New Zealand, Air France, Qantas, Eva Air, ANA and Japan Airlines are passengers' favorites. Premium Economy has wider seats, a foot rest and slightly better service to help you get to the destination refreshed and relaxed.
Not all airlines are family-friendly

Traveling with children is a whole other ballgame, so having an inflight built-in entertainment system can be a godsend on those longer trips. Is it worth saving twenty bucks on airfare to then spend hours on a plane with a restless, screaming child?
On longer, international endeavors, legroom can make all the difference between a pleasant flight and painful muscle cramps. Plus, it'll be much easier to pull out your arsenal of kid-pleasing snacks, toys and other items with additional wiggle space. Choosing what will make you and your loved ones most comfortable is well worth booking a flight that costs a little more. Trust us: you'll be glad you didn't go the cheapest route.

If traveling with a baby, make sure you'll have access to a bassinet while on the flight. Check ahead of time before booking to find out if these amenities are available. For instance, on most long-haul flights you can get a free bassinet for infants weighing up to 22 lbs (10kg).

Bassinets may be requested on Fareboom.com at the time of booking the infant passenger using the Assistance Request Form. Some U.S. carriers do not provide bassinets (Delta, American Airlines - except on Boeing 777). Better foreign carriers are typically more child-friendly.

Hidden airline fees may surprise you
As of last year, new laws now require posted flights in the U.S. to be more transparent in their added charges and taxes. So that's great for flyers who want to know what their total will be at checkout up front instead of at the last step of their purchase. However, plenty of airlines will tack on other expenses that you may find unavoidable.

Very few domestic airlines offer free checked baggage these days, which can add up on an extended trip. Extra leg room is essential for tall travelers, which can add more dollars to the overall experience. One airline can offer the lowest fare by a hair, but it also might have many extra charges and overall poor service. So that seemingly rock-bottom price probably isn't worth all the hassle.
If you'd rather find a fare that offers true value, rather than scrounging for the cheapest flight ever, check out our 10 Tips for Landing the Best Flight Deals.
MORE EXPERT ADVICE
Back