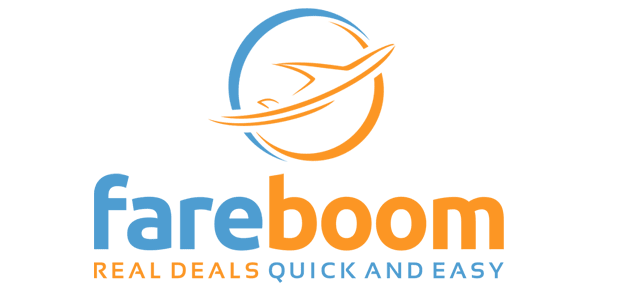 FOLLOW Fare
boom
New Online Travel Agency Fareboom.com uses unique Technology to uncover better Airfares
By Fareboom Staff, Tue, Nov 11, 2014
A new online travel agency that uses special algorithms to find the best value on international airfares officially launched its website today: Fareboom.com.

No other booking website searches for airfares the way Fareboom does. It implements a custom search strategy to dig deeper into airfare data, uncovering international routes that are under-utilized and that may result in lower fares or better overall flight value.

This means Fareboom offers an easier, faster and more reliable way for travelers to find and book the best possible international flights – not just the cheapest fare. It helps users pick the best time to purchase fares, optimize their choices of travel dates and alternate departure airports, and book flights that offer the most value for the least amount of money.

Fareboom.com offers four main flight search options:
Real Deal fare finder
This search feature uses specialized algorithms to pinpoint the moment when fares are at their cheapest and are unlikely to drop any lower. This includes technology that scans a full week of travel dates and has the ability to search alternate airports within a 175-mile radius to identify Real Deals as they become available.

Best Value fare selection
The Best Value function helps users pick the best flights based on things such as price, flight duration, layovers, airport changes, overnight costs. It adds to this mix airline quality, baggage fees and other factors to offer the absolute best value for money.

Fareboom Flight Map
An interactive map that helps travelers find the lowest fare prices to anywhere in the world based on season. This service targets the cheapest travel dates and helps travelers adjust their destination in order to get lower prices.

Fare Cruncher
Provides insight into the cheapest airfares to major destinations for a full month, allowing users to pick the cheapest travel dates.

"On other sites you have to compare possibly hundreds of itineraries to find what works for you and by the time you are done the fare might have gone up. As a frequent traveler, I wanted to offer to my clients flights that I would pick personally using my extensive experience in how to travel comfortably and yet inexpensively," said Marko Cadez, CEO of Best Travel Store, the parent company of Fareboom.

Fareboom.com has been helping travelers find better fares since May 2013, but didn't officially launch until today.

About Fareboom
Since 2002, employees at the Los Angeles-based Best Travel Store (parent company of Fareboom) have been helping travelers find, compare and book the best international flights possible. The launch of Fareboom.com makes it even easier for travelers to find the best flights by combining deeper flight routes search with smart technology that mimics the expertise of an experienced travel agent.

In 2012, more than 35,000 passengers booked flights through Best Travel Store.

For more information, or if you would like to arrange an interview with CEO Marko Cadez, please contact:

Maya Andlovic
Communications Officer
Maya@fareboom.com
Back